PAY WITH YOUR DEBIT OR CREDIT CARD
#1 CUSTOMER SUPPORT IN THE INDUSTRY
PAINLESS REGISTRATION NO SSN OR ID NEEDED
WAAVE lets you pay with a Debit or Credit card. We don't ask you for crazy things like bank info or Social Security number. We don't send you to 3rd parties. We don't require you to pre-load your account. That's nuts!
PAY FOR YOUR DELIVERY IN ADVANCE
At checkout, select WAAVE. You will get a link via SMS. Open the payment link, register, add a debit or credit card, review the amount, you can even add a tip for your delivery hero, and settle the bill before your goodies arrive.
Bank-like security: we encrypt and tokenize your data -- and we don't store it anywhere. It's the safe way to pay with debit and credit cards.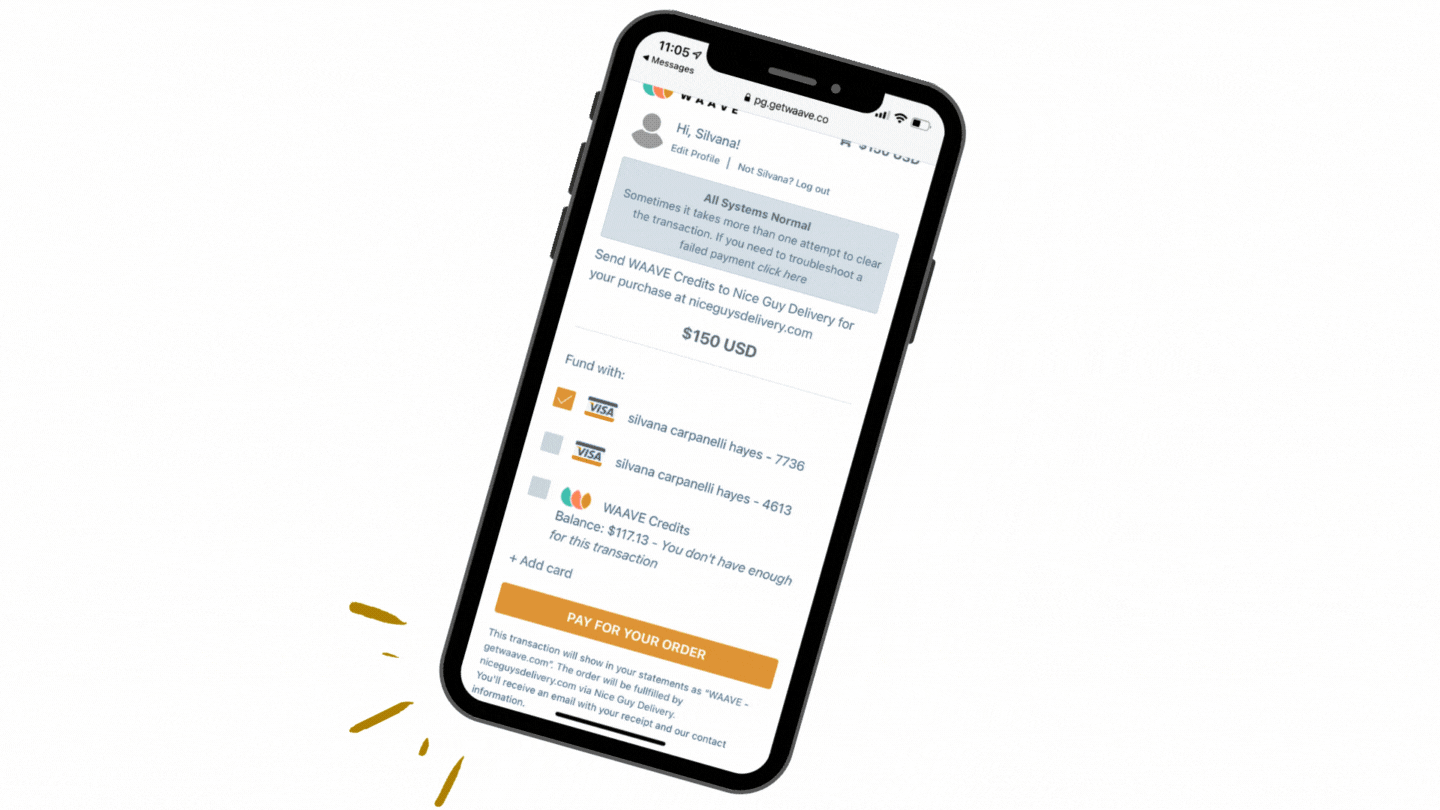 SMALL PRINT SUCKS! SO WE MAKE IT BIG
​
1. We accept major credit cards but we cannot process AMEX or Discover (for now) we can't process Pre-paid card (also for now)
​
2. Some banks will charge $10 for a credit card transaction that touches your cash advance, if you want to avoid this fee please use your Debit Card, they have ZERO fees and the same security protections as your credit card. Please note -- in any case, WAAVE does not charge or receive any part of any such convenience/cash-advance fees.
​
3. It might take more than one attempt to clear your first payment, if your transaction fails, please check if your bank has sent you a security alert. To approve the transaction, follow your bank's instructions.
​
4. You will not see Nice Guys Delivery on your statement, you will see Wyre Buy or WAAVE depending on which one of our processors has taken care of your transaction. Don't recognize a charge? Contact us!
​
5. WAAVE is all about customer care, please reach out anytime, we'll get back to you ASAP between 10 am and 10 pm PT (see links below)
​
6. WAAVE is located in Portland OR and we are on a mission to give cannabis merchants all the tools they need to serve you better.
​
#WAAVE4it
#RideTheCashlessWAAVE​